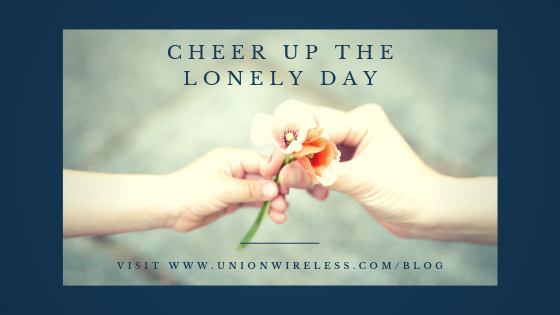 Everyone has felt lonely. It is a feeling of emptiness inside you. Isolated. Separated. Disconnected. You feel cut-off from those who you want to be around. The emotion becomes even more acute when those people have passed away. Feeling lonely isn't the same as being alone, but a sadness about being alone. If you are feeling lonely or know of someone who is, there are a few things you can do.
Every July 11 is Cheer Up the Lonely Day. It was created by Francis Pesek whose daughter said of him, "He was a quiet, kind, wonderful man who had a heart of gold. The idea came to him as a way of promoting kindness toward others who were lonely or forgotten as shut-ins or in nursing homes."  The goal of the day is to try and cheer up at least one person. So, how can you participate?
Take a moment and think about the people in your life. What are they going through? What about your neighbors? Do you know of any elderly that live near you? Once you have determined who you will cheer up, try a few of the following:


Go Visiting
Before the advent of telephones and the internet, people would go to a person's home, knock on the door, and speak to each other face to face. A personal visit is the best way to serve the lonely. It shows that you took time out of your busy day for them. The action of a visit speaks more than the words of a quick text. Here are a few suggestions:
Deliver a few spare magazines to an ailing friend.

Watch a movie with some freshly popped popcorn.

Read a book out loud to your friend.

Set up a playlist with inspirational music.

Offer to go for a walk with them.

Mail a sweet or funny card.

Bake one of their favorite foods.

Call and visit on the phone.

Email funny jokes every day to remind them to laugh.

Play a board game.

Go for a drive.

Play 20 questions.

Watch funny YouTube videos.

50/50
Fifty percent of the time people feel sad, and fifty percent of the time they feel happy. Feelings of loneliness and sadness are emotions experienced by all. And here is the good news, if you are currently feeling isolated, separated, or disconnected, the same list above can help you, too –the best way to get out of your slump is to forget yourself and find someone to serve.





Sources: https://nationaldaycalendar.com/national-cheer-up-the-lonely-day-july-11/, http://www.edu.pe.ca/southernkings/emotionslonely.htm

Contributed by Angelica Mecham