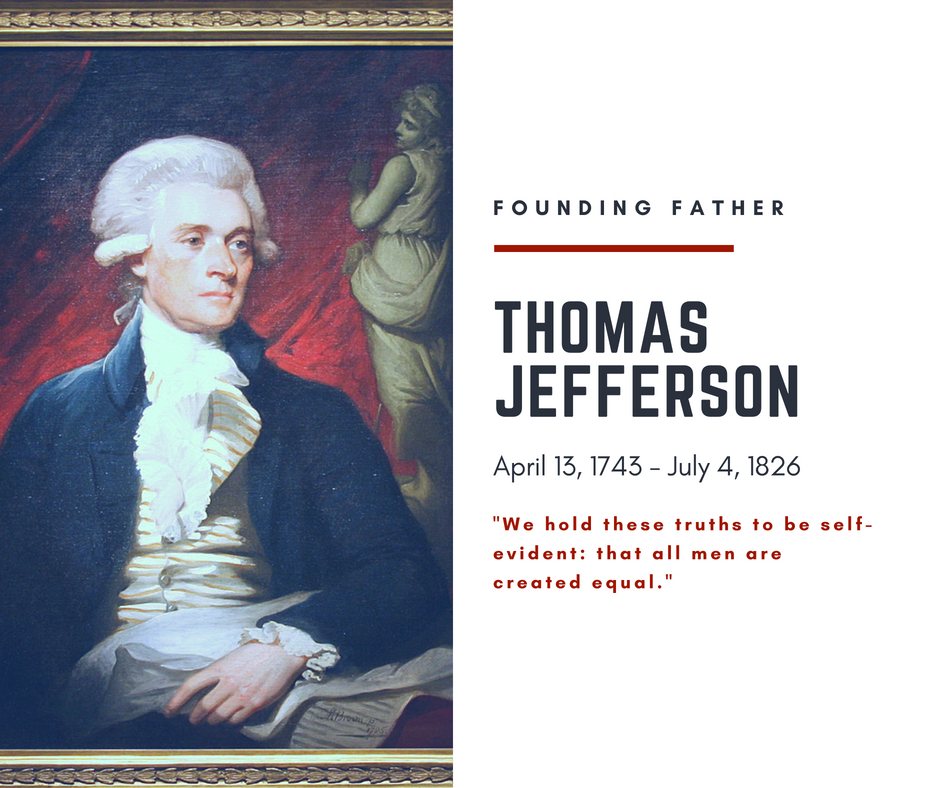 4 minute read

Thomas Jefferson was born in 1743 in the rugged Blue Ridge Mountains of Virginia. George Washington at this time was 11 years old, Benjamin Franklin was 37 and Samuel Adams was 21. Jefferson's cousin, John Adams, the man who would one day persuade Jefferson to write the Declaration of Independence, was only 8.


Bad Company
At the age of 14, Thomas Jefferson's father died and he became the head of his family. Of that time, Jefferson stated,
 "When I recollect that at fourteen years of age the whole care and direction of myself was thrown on myself entirely, without a relation or friend qualified to advise or guide me, and recollect the various sorts of bad company with which I associated from time to time, I am astonished I did not turn off with some of them and become as worthless to society as they were."
Red Hair and Freckled Skin
His unexpected situation fueled within him an urgency to be prepared for his future responsibilities. He laid aside the things of a carefree youth and at 16, entered college, graduating three years later. His natural talents were witnessed by many:
 "He was a fresh, bright, healthy-looking youth, with large feet and hands, red hair, freckled skin, ... hazel-gray eyes, prominent cheekbones, and a heavy chin. His form 'was straight as a gun barrel, sinewy and alert,' and he cultivated his strength 'by familiarity with saddle, gun, canoe, and minuet.' He early showed ... perfect self-reliance, and had strong taste for mathematics and mechanics."
 Influenced as the years went on by Patrick Henry, James Madison, and others, the young, vibrant Jefferson became a shining figure in the fight for the freedom of a new nation.
Words of Wisdom
Here are a few of his most famous quotes that will give you a small view into the kind of man we call a Founding Father:
Honesty is the first chapter in the book of wisdom.
In matters of style, swim with the current; in matters of principle, stand like a rock.
I cannot live without books.
I'm a great believer in luck, and I find the harder I work the more I have of it.
Nothing can stop the man with the right mental attitude from achieving his goal; nothing on earth can help the man with the wrong mental attitude.
Never spend your money before you have it.
I predict future happiness for Americans if they can prevent the government from wasting the labors of the people under the pretense of taking care of them.


Contributed by Angelica Mecham