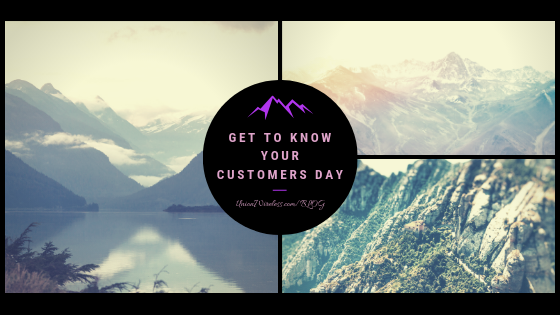 Remember when most businesses were locally owned and operated? Back in the day, owners knew their customers by name and knew their shopping habits. If something you wanted wasn't in stock, they were willing to order it for you. The introduction of big-box stores and the Internet has completely changed how people do business –most notedly, that personal touch has vanished. Not so with Union.
Union is a locally owned and family operated business. Since 1914, Union has provided their customers with the services they need and want with openness and honesty all within a cheerful atmosphere. And, when a Union customer calls in, they are greeted by a friendly human voice, not a machine. This allows customers to have an immediate connection with the company and know that they are being taken care of.
So how does a Union Customer Care Representative get to know their customers? By asking questions, they find out what services and products the customer needs. Through social media, new products and services are announced. This allows for an immediate response from customers to find out what they like and don't like. Union Care Representatives on Union's social media sites are quick to answer and positively fix any negative experiences. But what is it like as a Union Customer Care Rep?
Sheila Williams has been with Union for over two and a half years, most of which was spent in Customer Care. Here is what she had to say about her experience as a Union Customer Care Representative:
Q&A with Sheila Williams
1.    You commute to work from Manila, Utah. What is your commute like?
My commute is one hour each way. I can see all sorts of wildlife, ranch life and the beautiful mountains, lakes, and streams surrounding us.  In the Winter, I get to see the beauty of snowfall. I enjoy slowing down and taking life easy.  Never be in a rush. 
2.    What do you love about living in the Rocky Mountains?
The space you have around you.
3.    How long did you work in Customer Care? Two and a half years, but I just recently moved to Operations Dispatch Administration. Instead of helping our customers in the store, I help ensure that things go smoothly behind the scenes.
4.    What do the words "Customer Care" mean to you?
Providing the best information, resources, and services to our local customers while maintaining a family-friendly environment.
5.    What was the best part about being in Customer Care?
Knowing you can make the difference in a customer's experience and letting them know they can always come to us for assistance.
6.    When customers came in, what did you hope they remembered about the experience?
That they were provided knowledgeable service in a friendly atmosphere.
7.    How did you try and get to know your customers?
Talking to them, asking open-ended questions…. it's not all about work or services we sell.  Communicating with people is what we all love to do.
8.    What do you have in common with Union customers?
We have a love of the outdoors and we recognize the opportunities we have when we choose to slow down and look at the beauty around us.
9.    What was your most memorable experience with a Union customer?
I had several older gentlemen regularly come in and we would sit around visiting about fly fishing and all the places we loved to go to.  We would share our favorite spots and just enjoy each other.  They always looked forward to coming in to pay their bill!
10.    What do you wish customers knew about those who work in Union's Customer Care Services?
We do care about you and we are not trying to always sell you something.  We want you to have only what you need.



Contributed by Angelica Mecham