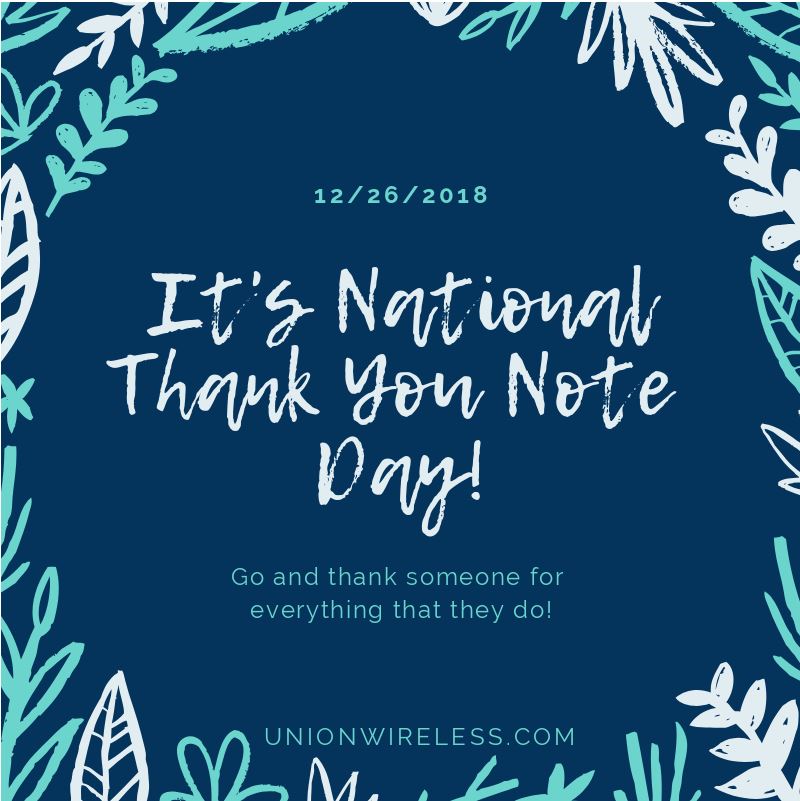 Is it a coincidence that the day after the Christmas gifts are given and unwrapped that we have a National Thank You Note Day? There is special meaning in taking the time to thank family and friends with a personalized message for the gifts or services they have given you. Perhaps the final page of the season, skipped by so many, is one of gratitude.

A sincerely penned note of gratitude will be joyfully received, and you will be positively thought of. Never underestimate the power behind a simple Thank You. Here are a few tips to get you started with this somewhat lost art:
Prep for this day by having handy card stock and envelopes or some simple Thank You Note Cards from the store. Don't forget the stamps!

Be genuine in your compliment of the gift/service. If the gift was delivered, assure the sender that it arrived safely. Even if the item wasn't on your Santa list, point out your appreciation for their time in giving it to you.

If the present was delivered in person, reference something from that meeting. Tell them how thoughtful and useful the gift was.

End your note with appreciation for remembering you this season.

Here are a few writing phrases to follow:
   For a Simple Thank You
"I'm touched beyond words."

"You're the best."

"I'm humbled and grateful."

"My heart is still smiling."

"Your thoughtfulness is a gift I will always treasure."

"Sometimes the simplest things mean the most."

"The pumpkin bread was amazing. You made my day."

"All I can say is wow! (Except, of course, I'm grateful.)"

"My heart just keeps thanking you and thanking you."

"You are so thoughtful!"

"Thank you for being my angel."
   For the Gift
"Thank you for the bling hanger for my marathon medals. You know me so well!"

"I love the mother and child statue. I'll think of you every time I see it in my cabinet."

"Thank you for the fun and funky jacket. I love your eclectic style!"

"The picture you sent us for Christmas is perfect! I can tell you spent a lot of time picking it out, and it makes me smile to think about how thoughtful you are."

"I was so thrilled when I opened the new snow goggles. You knew exactly what I wanted."

"Bless your kind heart!"