Pros:
-          sleek design
-          great display
-          excellent battery life
-          sharp selfie cam and great rear shooter
Cons:
-          Fingerprint sensor is awkwardly placed
-          No dual camera for optical zoom
When Samsung released the Galaxy S8 model in April of 2017, it was easily one of the best Android phones you could buy. It may not have all the bells and whistles of the newer S9 model, but the lower price tag is worth taking into consideration when you are Android hunting. Here is what you get for your money:
The screen is a comfortable 5.8 inches. This is definitely more screen real estate compared with the older S7, without sacrificing a compact and lightweight design of only 5.5 ounces. Height was increased, but it is still easy to use with one hand. The finish on the back glares fingerprint smudges, especially on the midnight black version of the S8. The lighter orchid gray or arctic silver are more forgiving.
The rear camera is 12MP while the front is 8MP. Security is on par with the S9 models -facial recognition, iris scanner, and fingerprint reader are included. Storage comes with 64GB with a microSD expansion of 256GB. The 10:39 hour battery life is a major attraction.
The obvious difference between the S8 and the S8+ is size. The plus boasts a huge 6.2-inch screen. But, the major difference to note between them is the battery size. The S8 has a 3000mAh battery, while the S8+ packs a 3500mAh cell.
If you visit the Samsung website at www.Samsung.com, you can tour the best deals on these phones and all the tech gadgets that pair with it. Their trade in program will give you up to $300 off your new phone purchase -they will even take phones with cracked screens.
For more information on the Samsung Galaxy S8, visit our website at https://unionwireless.devicebits.com/devicehome?device=25067.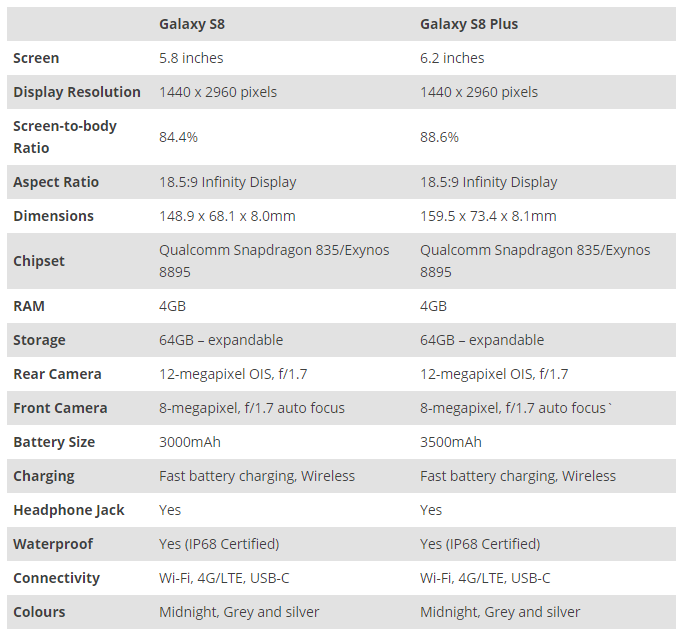 Contributed by Angelica Mecham