Union Wireless Community Service
Friday, December 21, 2018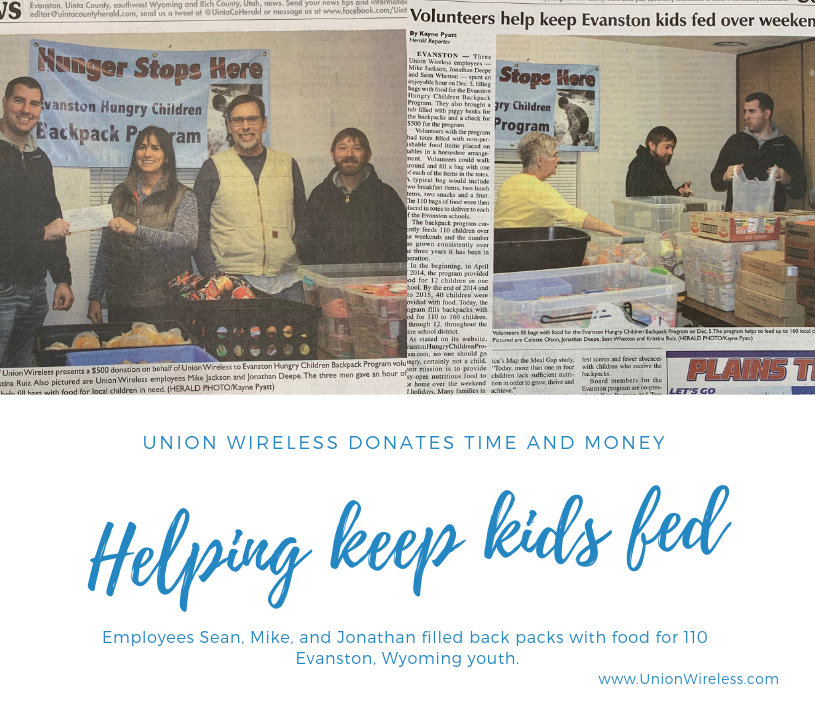 On December 5, 2018, three Union Wireless employees, Mike Jackson, Jonathan Deepe, and Sean Whetton donated their time to help fill backpacks with food for the 110 children registered with the Evanston Hungry Children Backpack Program in Evanston, Wyoming. The bags were filled with non-perishable foodstuffs and a donation of $500 was given by Union to help this community organization.
The mission of the program is to provide easily accessible food for children during their weekends and holiday breaks. "Union has been involved for a number of years now," said Lynda Sidwell, Special Projects Manager for Union. "The weather was not on our side that day," she continued, "but Sean, Jonathan, and Mike were troopers and were able to make it safely."
Mike Jackson, Graphic Designer for Union was one of the three volunteers, "This program is needed in our community. It was my first year doing this, what an amazing experience."
The program runs nationwide and with its positive influence in the community, is destined to be around a very long time. If you are interested in donating your time or money, contact Tera at 307-679-3234 or Ken at 307-679-1840. You can also visit their website at http://www.evanstonhungrychildren.com.