Union Wireless Supports Utah State University Engineering Students
Friday, April 5, 2013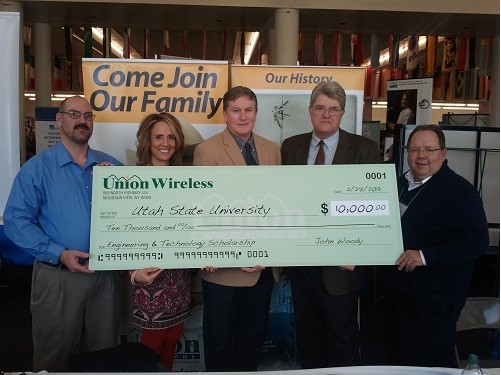 April 5, 2013 - Union Wireless recently announced a five-year scholarship agreement with Utah State University supporting undergraduate students enrolled in the College of Engineering. Two scholarship awards will be awarded to students each fall over the next five years.
According to Frank Draney, Human Resources Director for Union Wireless, "In the past, we have hired both full-time and summer engineering interns from Utah State University to work at Union Wireless. It's only fitting for Union Wireless to broaden its partnership with the university through this scholarship program and continue to support the educational development of students pursuing technical degrees in the Rocky Mountain region."
Scott Hinton, Dean of the College of Engineering, accepted the Union Wireless scholarship donation presented by Eric Woody, Union Telephone Company's Chief Technology and Operations Officer, on Wednesday, February 27th.
"We are grateful to Union Wireless for the scholarships they have given to support our students. This is a positive affirmation by Union Wireless that they feel our students are graduating with the education and skills that will make them great employees. We are very thankful for this support," said Dean Hinton.