The Mountain View Library Receives Donation from Union's Giving Back Program
Monday, February 25, 2019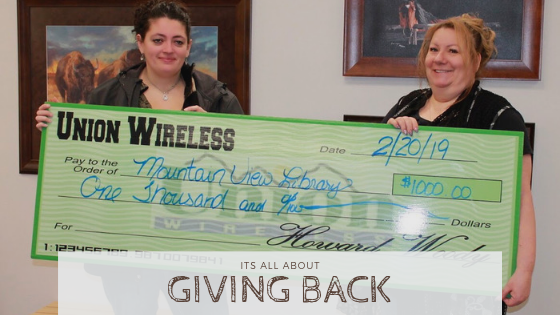 Since 1914, Union has strived to fulfill one mission: connecting people, and not just via telephone lines. Our Giving Back Program has helped thousands in the Rocky Mountain region. We have helped fight hunger, supported educational programs, and sponsored family uniting events. The summer reading program hosted by the Mountain View library in Uinta County is the latest donation recipient because we recognize that an educated society is a connected society.
On February 24th, Union donated $1000 to the Mountain View Library's upcoming summer reading program. Kortnie Reinholz one of the coordinators at the library described the program as such:
"The summer reading program incentivizes our children to continue to read throughout the summer. This year we will be focusing on space. How does our galaxy work? What celestial bodies exist in our solar system? How does all this affect our planet? Through art and experiments, our children will be able to explain the answers to those questions. To encourage their participation, each week we will draw for small prizes and at the end of the reading program, we will draw for bigger ones. A snack at the end of each Wednesday activity will also be provided."
Chief Officer Stacey Aughe presented the check to an emotional Kortnie. She had not anticipated such generosity. After a moment she stated,
"This donation will fund us for the year. I am so grateful."
Libraries are often one of the first places where a child will experience the awe and abundance of knowledge available to them. Despite the onset of digital learning alternatives, libraries remain essential and valuable to our communities—they are a place where people connect. We hope you will join us in supporting all of our local libraries.