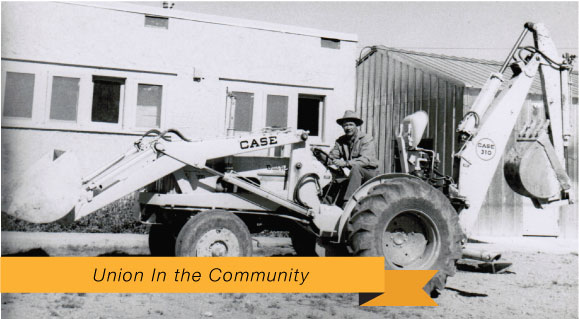 About Us
Company Values
Mission Statement
Giving Back Program
---
Giving Back Program

Giving back form
Union Wireless is committed to actively building lasting, positive change in the communities we serve through the investment of our people, resources, and network. As part of this commitment, Union is privileged to support certain charitable endeavors that relate to our mission to be the premier telecommunications provider in the Rocky Mountain Region.
The majority of charitable activities we support are initiated by Union Wireless. Even so, we do consider unsolicited requests for financial support. If an organization chooses to submit an unsolicited request, we welcome applications that 1) demonstrate significant and enduring impact to the community; and 2) adhere to our Giving Guidelines as outlined below.
Giving Guidelines
Union Wireless works diligently to ensure that its commitments align seamlessly with our corporate giving plan through a very selective approval process. The following guidelines highlight the type of organizations that are currently inside of our scope and can be considered for sponsorship.
Our Focus
Union Wireless seeks to partner with organizations that work in three preferred areas of focus within the communities we serve:
Economic Development – organizations that produce economic and employment expansion within the local trade area with priority given to organizations that mentor youth to increase local entrepreneurship;
Public Education – organizations that improve public education at the local and state level with priority given to organizations that support STEM (science, technology, engineering and math) education and Business academic disciplines; and
Health and Safety – organizations that provide programs and services to improve the wellness of individuals and communities with priority given to organizations that use communications technology to help people with disabilities lead independent and fulfilling lives.
Eligibility Requirements
Union Wireless only considers contribution requests from organizations classified as IRS 501(c)(3) tax-exempt nonprofit, located in areas where the company has significant business interests.
Union Wireless does not tolerate discrimination on the basis of race, religion, sex, color, age, disability, national origin, veteran status, sexual orientation, gender identity or any other classification protected under federal, state, or local law.
Organizations must be in good financial and public standing, and be in position to show evidence of competent management, have low administrative/fundraising expense ratios and manage nondiscriminatory programs benefiting broad segments of the community.
Organizations must be in compliance with the requirements of the Equal Employment Opportunities Act, Americans with Disabilities Act of 1990, and other relevant, applicable federal, state, and local laws and regulations.
Organizations that are also our customers will be given higher funding priority as they will be the best ambassadors of our Brand.
Organizations must not be:

faith-based, such as religious and anti-religious groups,
political, such as lobbyist, voter influence, and special interest groups,
labor related, such as unions and industry representation groups,
social, such as fraternities, sororities, and service groups,
investment, such as endowments and memorial groups,
incentive, such as recognition events, holiday parties, door prizes, giveaways, and reward-based groups,
artistic, such as promotional tours, production, and exhibition groups unless serving amateur or special needs populations,
recreational, such as sporting or athletic groups unless serving amateur or special needs populations,
individual, such as personal assistance, scholarships, stipends, sponsorships, grants or other forms of individual support.
Submission Process
Requests are considered throughout the year and are reviewed by our community relations representatives.
Only one request will be considered from an organization during any 12-month period.
Proposals can be submitted online using the form provided.
Proposals must be submitted in writing no less than six weeks prior to the event.
These Giving Guidelines may be modified at any time without advance notice. Union Wireless reserves the right to change, suspend, revoke or terminate its charitable giving at any time, and to deviate from these Giving Guidelines at its own discretion.
The foregoing Giving Guidelines are not a contract and create no contractual obligations or liabilities between Union Telephone Company (d.b.a. "Union Wireless") and any other party. Under no circumstances will Union Telephone Company be liable for consequential, incidental, aggravated, exemplary or punitive damages, or for loss of profits relating to any circumstances proximately or directly related to, arising from, or otherwise attributable to the foregoing Giving Guidelines.